Trustdock – Fintech Web Design

Trustdock is a leader in digital identity verification.
We chose Vimi to create our global website. They've proven a reliable & valued partner that delivers on time & on spec. Vimi go the extra mile looking for ways to support our business, so naturally we're happy to recommend them as a service provider
Jeff Bates
Global Markets Lead, Trustdock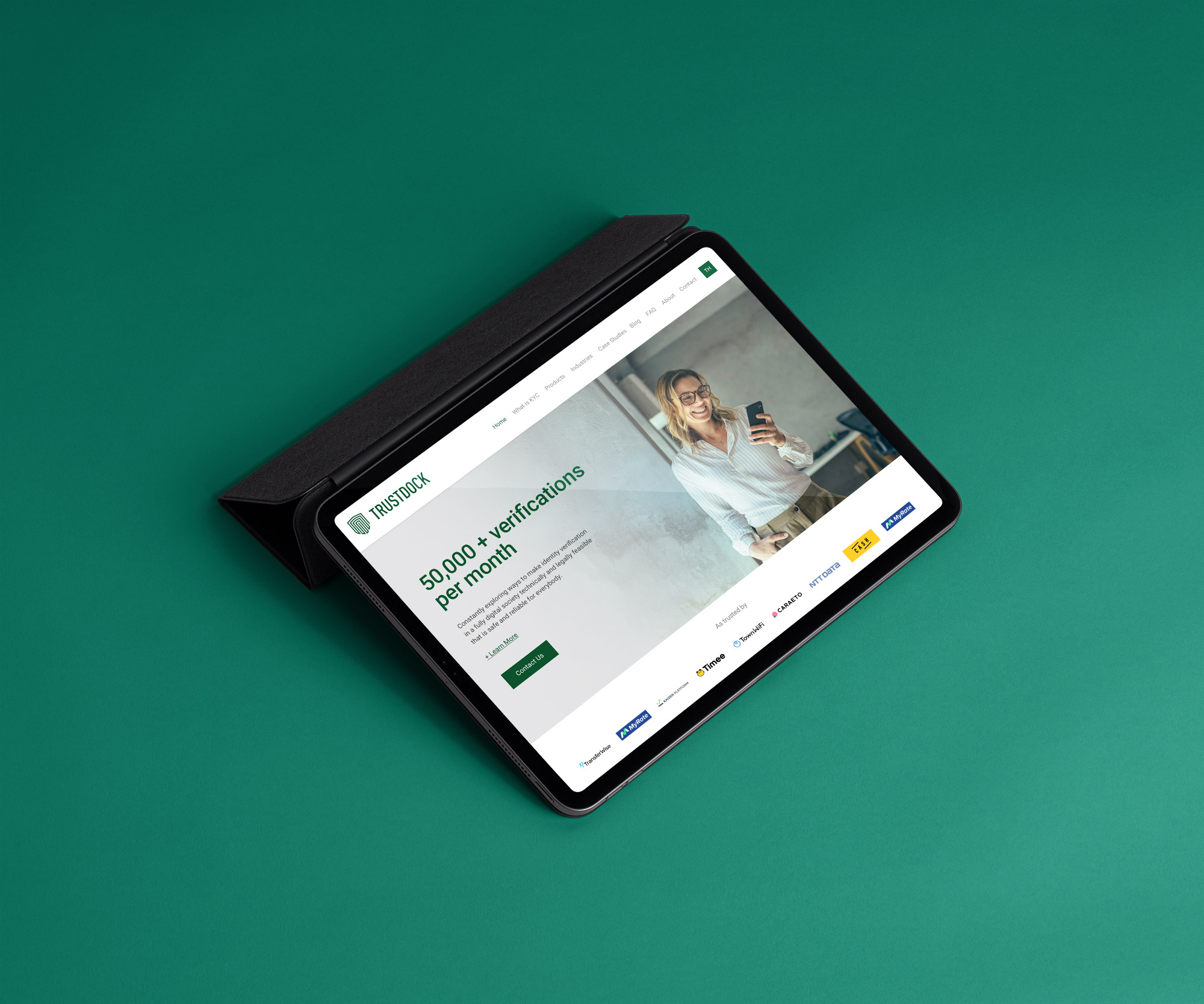 Trustdock - A Fintech KYC Startup
Trustdock is a leading Japanese fintech provider that delivers holistic e-KYC solutions. The company is leveraging it's Bangkok based Thai branch to expand into Southeast Asia.
Trustdock is dedicated to delivering comprehensive digital identity verification solutions that match the most stringent industry standards for security, compliance, customer experience, and scale, and offers innovative e-KYC solutions that are customizable to address specific KYC and CDD needs.
Trustdock's target audiences are ASEAN-based companies that need to comply with KYC regulations. Typically, these are providers of financial, healthcare, and ecommerce services.
Trustdock's value proposition is its ability to offer client companies comprehensive, and legally-compliant, turnkey KYC solutions. Using Trustdock's platform allows companies to concentrate on delivering their unique value proposition, rather than get sidetracked by coping with ever-changing KYC regulations. Trustdock's position as the market leader in Japan speaks to the company's ability to deliver quality solutions, at scale, and with unwavering reliability.
The Project - Scope of Work
Trustdock maintained a Japanese language online presence, but didn't have an international website to support its ASEAN expansion. The creation of this new global website was the scope of work the company tasked Vimi with.
Some of this fintech company's project goals were:
Web design that echoed the brand's values faithfully.
Establish the company as a regional leader in e-KYC, and a trustworthy partner for potential clients.
Serve as a point-of-contact for inquiries from potential partners and stakeholders in Thailand and ASEAN.
The end result is a fintech website that captures Trustdock's capabilities and industry leadership. According to Trustdock, Vimi delivered a high-quality web design that supports Trustdock's business objectives.
The collaboration demonstrates Vimi's proficiency in designing fintech websites that effectively convey client companys' unique value propositions, for maximal lead generation.