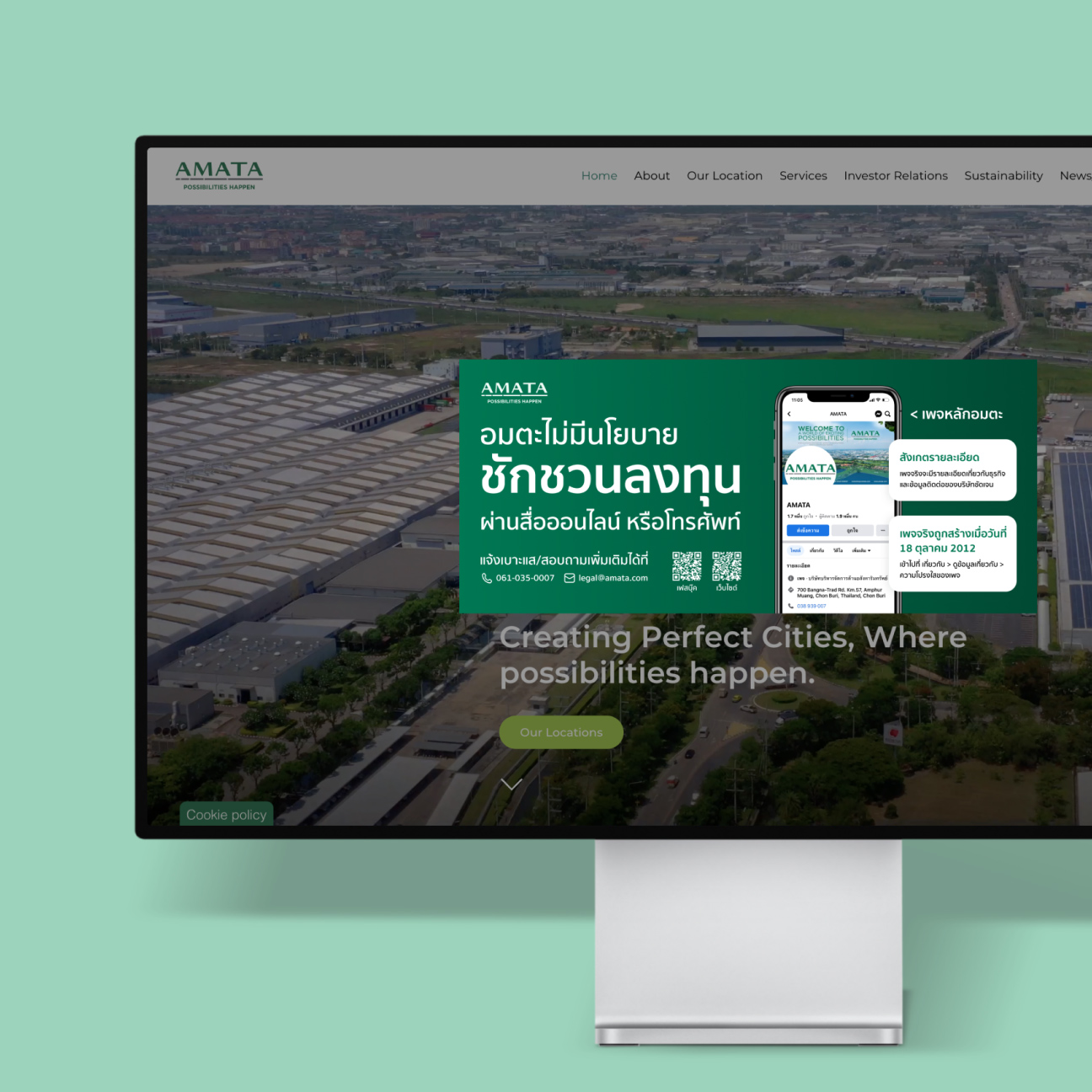 AMATA - B2B Digital Marketing Client
Founded in 1989, AMATA Corporation is a leading Thai industrial estate provider headquartered in Bangkok. With over 30 years of experience, AMATA has established itself as one of Asia's most successful large-scale industrial development companies. They operate industrial parks across Thailand, Vietnam, and Laos.
AMATA marketing goals are aimed at attracting new manufacturing clients looking to expand in SEA and reinforcing their reputation as the premier industrial real estate developer in the region.
Digital Marketing Strategies
Digital marketing allows AMATA to showcase their +30 years of experience creating sustainable industrial cities that enable economic growth.
Highlighting client case success stories and partnerships provides validation.
Optimized website content and SEO connect AMATA with key decision makers researching locations online.
Paid ads target the right audiences across business forums and social media.
Email campaigns connect AMATA directly to the relevant decision makers in their target markets.
AMATA client audience are primarily multinational corporations in industries like automotive, E&E data centers,, and food and beverage looking to expand manufacturing operations in Southeast Asia.
AMATA's unique value propositions are:
Strategic locations in Thailand, Vietnam, and Laos that provide entry to the fast-growing Southeast Asian consumer market
Custom built infrastructure built to support data centers and semiconductor manufacturers.
Proximity to transportation infrastructure including airports, seaports, and railways.
Competitive incentives for foreign companies to expand manufacturing and operations.
The Project - Scope of Work
Vimi supports AMATA with their digital marketing efforts through:
Social media management.
Content production – Copywriting, and video.
Search engine optimization
Lead sourcing.
Email marketing content and management.
Ad campaign management and optimization.
AMATA is seeing measurable improvements in their ad campaign performance as well as an overall increase in brand awareness and perception. In the word's of Ms. Claudia Nonthitipong-Bieri, who runs Corporate Communication at Amata: